Regular price
$24.00 AUD (GST Inclusive)
Regular price
Sale price
$24.00 AUD (GST Inclusive)
Unit price
per
Sale
Sold out
Are plastic produce bags a killjoy to your shopping trip?
The frustrations of tearing off those annoying single use plastic bags that are almost impossible to open! Or chasing escaping fruit and veg at the checkout! Heaven forbid kids start thinking food comes from a plastic bag!
Wave goodbye to those killjoys and go plastic free with these beautiful organic reusable produce bags!
Easy to load up with goodies and with a handy wooden toggle to secure your fruit and veg, they are the perfect natural way to make shopping more sustainable. Tackle those shopping trips armed with these eye-catching bags, sure to be noticed by fellow shoppers and help power the trend for plastic free shopping trips!
----------
You'll love more than just their looks:
Three handy sizes to bag up those little beans or grapes and even big bunches of celery or cabbage!
Strong and durable to handle even the heavier goods like potatoes!
Highest quality, certified GOTS organic cotton - better for you, our farmers and the environment!
Drawstring with handy toggle to stop escaping goods!
Lightweight with tare weight labels (Small 19gm, Medium 29gm, Large 36gm)
Easy to wash and dry ready for the next trip!
These three handy sizes are included in a set:
1x Small (20x26cm)
Ideal for apples, beans, oranges, spinach, grapes and tomatoes.
1x Medium (33x26cm)
Ideal for carrots, bananas, broccoli, zucchinis, capsicums and lettuce.
1x Large (43x26cm)
Ideal for big leafy greens like celery, leaks and spring onions.
How do I wash them?
Wash them in a laundry bag on a gentle cycle in cold water. Gently pull back into shape before hanging in the sunshine to dry. You can expect some slight shrinkage with the first wash and please do not tumble dry them!
Grab yours today for the perfect plastic free alternative for sustainable shopping trips!
Note: We used to hand make produce bags ourselves but to make them even more sustainable, we wanted to make a switch to GOTS certified cotton. Sadly it's not able to be sourced and manufactured into bags in Australia yet. When they do, we can't wait to support them! Sustainability is a global problem requiring a global solution. So until we can have these manufacturer locally, these bags are sourced and manufactured in China by trusted and certified suppliers who are carefully checked through strict criteria.
Share
View full details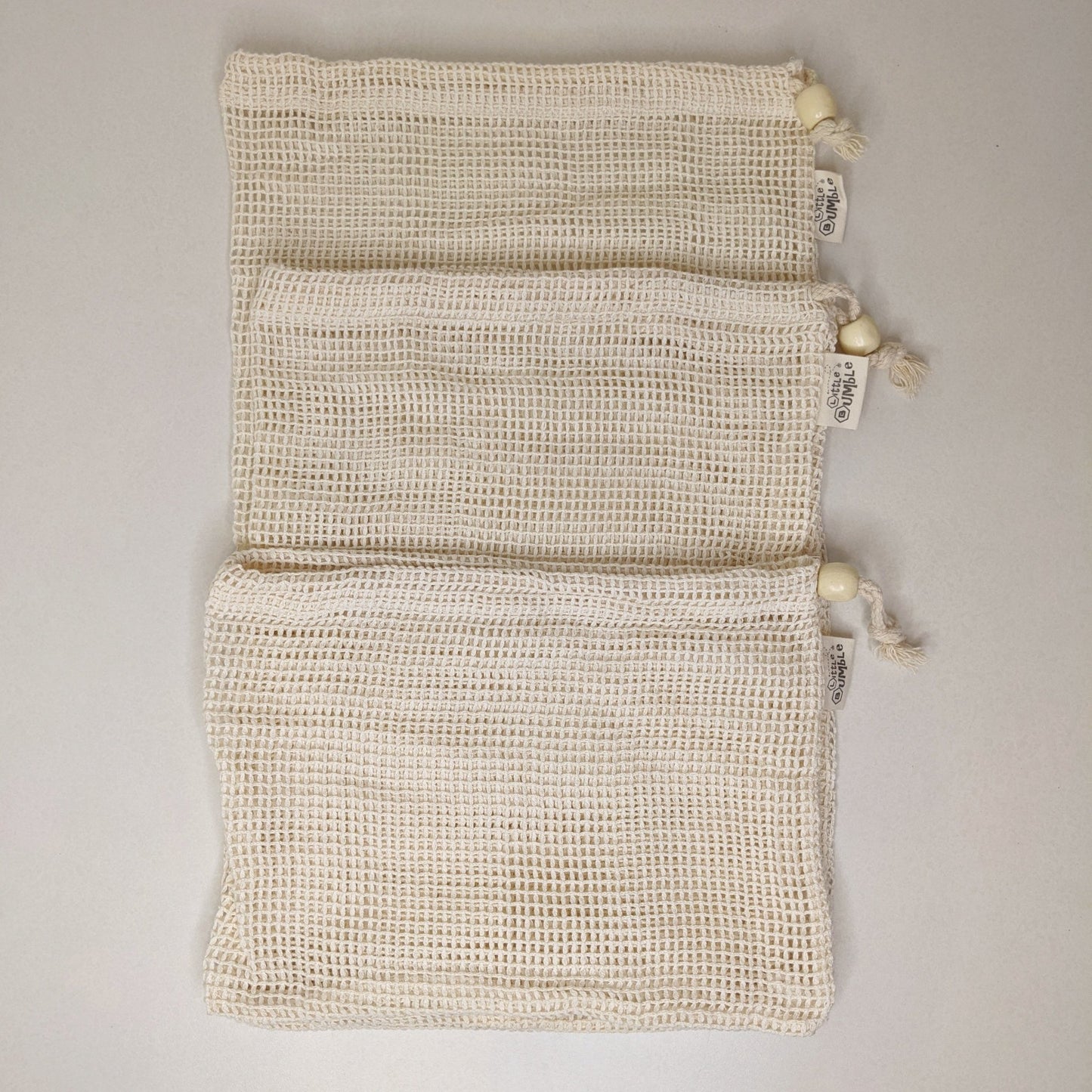 Other products you might like