Regular price
$42.00 AUD (GST Inclusive)
Regular price
Sale price
$42.00 AUD (GST Inclusive)
Unit price
per
Sale
Sold out
Cringing at your electricity bills?
Or at massive piles of ironing?
With winter here, it's hard to keep our homes from overflowing with drying washing! And if you use a dryer, you'll be feeling the pinch with electricity bills which are already at an all time high, ouch! 
Reduce the bills by reducing drying time with the help of these pure Australian Wool Dryer Balls! Pop them in the dryer with wet laundry and they bounce around gently separating your clothes to allow hot air between them, drying your clothes faster!
With the added benefit of softening clothes, smoothing wrinkles & getting rid of static, these are a MUST HAVE for all homes with a dryer! Ditch the fabric softener and reduce your ironing! The next best thing from hiring a helper!
Better yet, they are hand felted by us, for your home, with 100% pure Australian wool which is naturally anti-microbial. As an extra BONUS a set of wool balls comes with a FREE Organic Reusable Produce Bag (Valued at $6)!
Get your set of 3 wool dryer balls today & enjoy dry laundry without the fuss!
Now you know the 'whys', here are the 'hows':
How do I use them?
Add all three wool balls into your dryer with a freshly washed load of laundry, that's it! They can live in there, as they are safe for drying all your laundry. Even add a few drops of essential oils on the wool balls, leave them overnight to set, then put them in the dryer for naturally fragranced clothes. You might notice an oil stain on the wool but will not affect its performance.
How long do they last?
Years!! They will last for thousands and thousands of loads. If they start to get little wooly pills or bumps, don't chop them off, they actually help with speedy drying. The dryer balls are xlarge in size at about 8.5cm diameter which is larger than standard wool dryer balls and have a longer lifespan. At the end of their life they are biodegradable so they can go in the compostable and go back to the earth without a trace!
How much can it reduce drying time?
Energy savings can vary with different machines, but generally, you should be able to see a reduction of around 20% and perhaps as high as 30%! We love the difference these make and the Little Bumble Team have found it saves between 15 to 30 minutes off our dryer cycles! If you have an old dryer or dry big loads in a larger dryer (9+kg), you might benefit from an additional set to achieve even more efficiency.
Share
View full details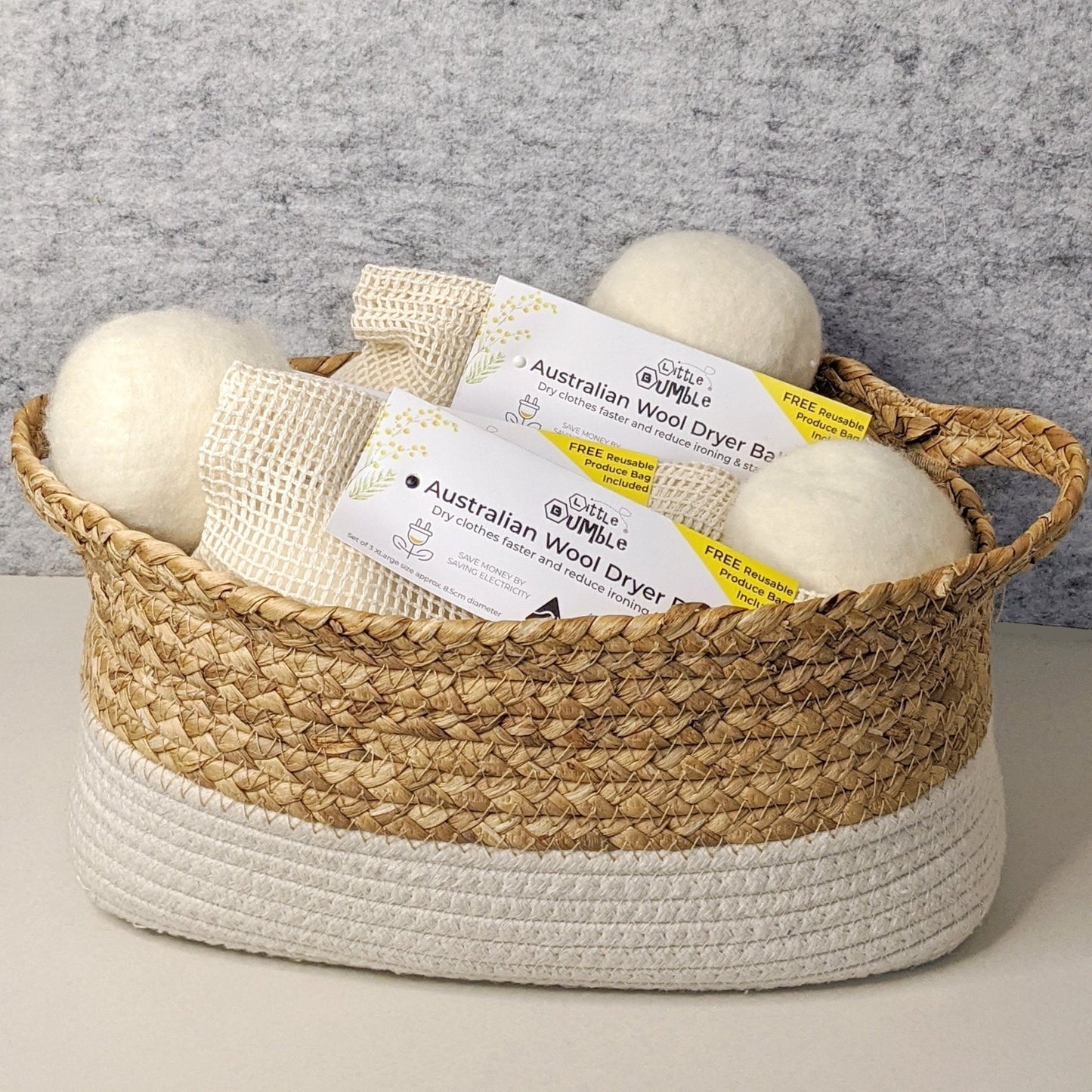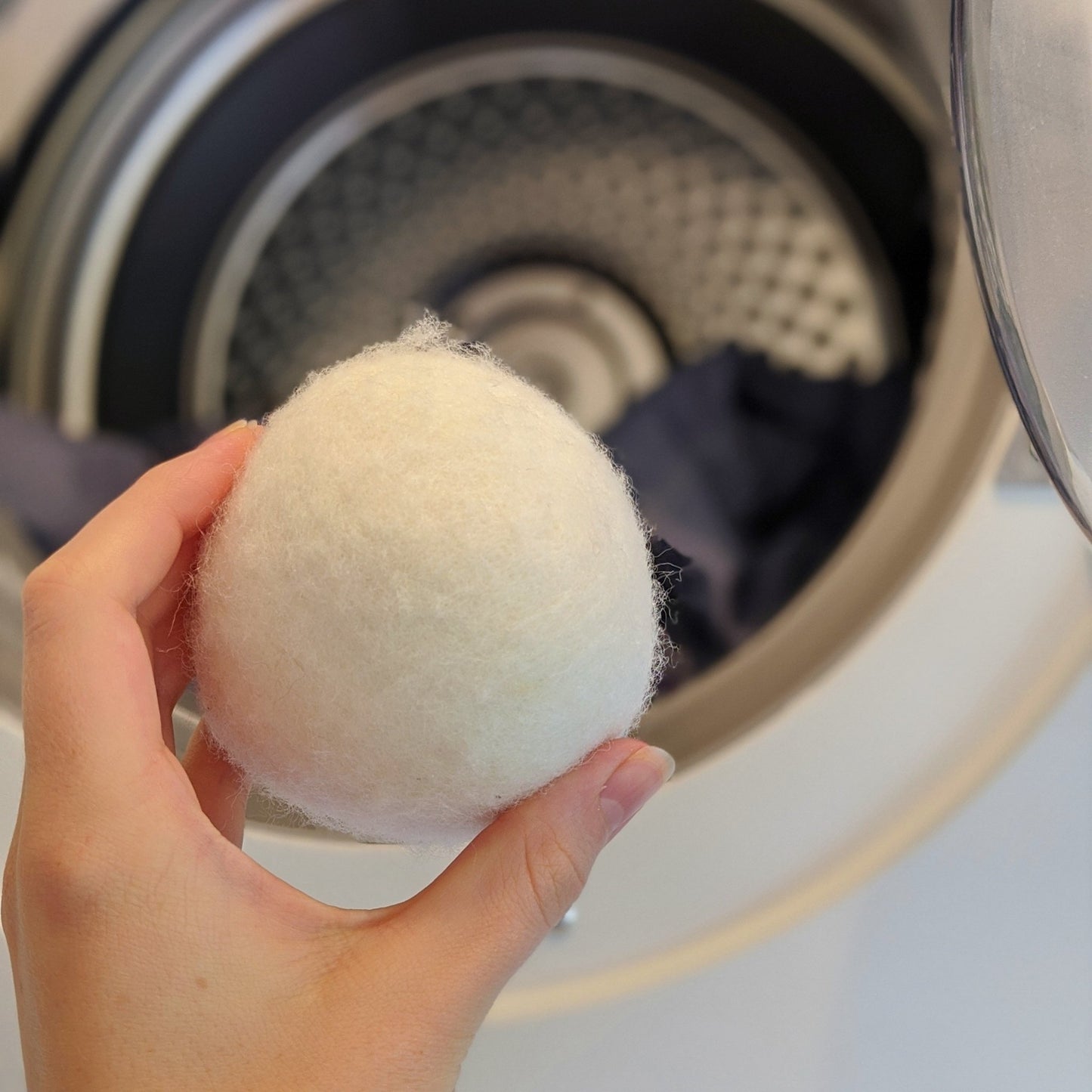 Other products you might like
Regular price

$7.00 AUD (GST Inclusive)

Regular price

Sale price

$7.00 AUD (GST Inclusive)

Unit price

per

Regular price

$27.00 AUD (GST Inclusive)

Regular price

Sale price

$27.00 AUD (GST Inclusive)

Unit price

per

Regular price

$19.00 AUD (GST Inclusive)

Regular price

Sale price

$19.00 AUD (GST Inclusive)

Unit price

per